El mercado de la droga se amplía: Silk Road, Black Market, Sheep Marketplace…
The drug market expands: Silk Road, Black Market, Sheep Marketplace…
Desde tiempos remotos el hombre ha tratado de buscar nuevas vías de expansión comercial, para intercambiar mercancías y a la vez conocer nuevas culturas e introducir nuevos productos, desconocidos para él. Dentro de esta inquietud surgieron en la antigüedad las rutas comerciales, siendo una de las más destacadas la conocida como Ruta de la Seda, vía comercial que se extendía entre Europa y Asia, descrita principalmente por el explorador veneciano Marco Polo en su libro «Los viajes de Marco Polo».
Todo lo anterior viene a colación por el cierre de la página de internet conocida como Silk Road (Ruta de la Seda), alojada en la red Tor (en la Deep Web), dedicada a la venta de sustancias psicoactivas. Esta página ha sido cerrada por el FBI a finales del mes de Septiembre y se han detenido a múltiples personas, entre ellas el supuesto fundador de la misma Ross Ulbritch (conocido como pirata Roberts), además de incautar millones de bitcoins (moneda de intercambio utilizada en la red Tor).
En esta página se vendían todo tipo de sustancias estupefacientes, incluyendo cocaína, heroína, y las llamadas «legal highs» o drogas emergentes, donde la característica principal era el anonimato de los compradores. Se trataba de una red de más de 100.000 usuarios, que accedían accedían de forma segura y sin dejar rastro a la Deep Web, que básicamente sería lo que Google no ve. Todo aquello que se escapa al radar de los motores de búsqueda: información clasificada, bases de datos protegidas… Los buscadores no pueden indexar estas páginas, bien porque no pueden acceder a ellas, por ser de pago y/o necesitar contraseña; bien porque ni siquiera saben que existen, al estar diseñadas en formatos invisibles para los robots rastreadores.
In today's post we refer to the closure of the website known as Silk Road, hosted in the Tor network ( on the Deep Web), dedicated to the sale of psychoactive substances. This page has been closed by the FBI in late September and have arrested many people, including the alleged founder of the same Ross Ulbritch (known as Dread Pirate Roberts), as well as seize million bitcoins (currency exchange coin used in the Tor network).
This page is selling all kinds of drugs, including cocaine, heroin, and so-called » legal highs » or emerging drugs, where the main feature was the anonymity of buyers. It was a network of more than 100,000 users, who accessed safely and without a trace of the Deep Web, which basically would be that Google does not see. Anything that is beyond the radar of the search engines: classified information protected databases… Search engines can not index these pages, either because they can not access them, being of payment and/or need password, or because not even know they exist, to be designed in formats invisible to crawlers.
En ella se pueden comprar drogas, contratar sicarios, hackear cuentas, descargar vídeos atroces… También es un ecosistema propicio para compartir perversiones e ideologías extremistas o para aleccionar a terroristas. Y, como todo lo oculto, genera sensacionalismo: teorías conspiratorias y leyendas urbanas sobre ovnis, la ubicación de la Atlántida o peleas a muerte en directo con apuestas millonarias… Todo depende de las intenciones del usuario. Se accede a ella a través de una de las puertas de entrada, que no la única, la conocida como Tor, acrónimo de «The Onion Router», la cuál tras entrar en un servidor, nos proporciona unos nodos a través de los cuales nos podemos conectar, una vez que accedemos a uno de estos nodos, el servidor nos va saltando de uno a otro hasta conseguir que la ruta sea inrastreable, llegando así al destino final.
Como decimos en esta red se alojaba «Silk Road», pero sin embargo no es la única página dedicada a ello, ya que inmediatamente del cese de las actividades de esta, han surgido otras que quieren hacerse con el control de la venta de drogas en internet, como Black Market Reload (BMR), Sheep Marketplace… Estas nuevas páginas están siendo rastreadas en el momento actual por las autoridades federales de los Estados Unidos y por otras agencias estatales para intentar acabar con su negocio, sin embargo se mueven continuamente de ubicación virtual, lo que hace muy dificil seguirles la pista.
Por tanto el mercado de la droga ha cambiado y se ha ampliado, desde la venta en discotecas y por las esquinas de la heroína y el cannabis hace unos años, a la venta de derivados de las anfetaminas en las fiestas rave y bakalao, la distribución de drogas a domicilio tras pedirlo a través de teléfono móvil o whatsapp, hasta lo que describimos en este post de venta por internet y entrega a domicilio de forma confidencial y segura. El hombre sigue ampliando y buscando nuevas formas de mercado. El negocio real de las drogas está en el momento actual en la venta por internet.
As we say in this network was staying «Silk Road», yet is not the only page devoted to it, and immediately the cessation of the activities of this, there have been others who want to take control of drug sales in Internet, as Black Market Reload ( BMR) , Sheep Marketplace… These new pages are being tracked at the present time by the federal authorities of the United States and other state agencies to try to wipe out their business, however are continuously moving virtual location, which makes it very difficult to track.
Thus the drug market has changed and expanded from selling in clubs and corners of heroin and cannabis few years ago, the sale of amphetamine derivatives at raves parties, distribution home drug after ordered via mobile phone or whatsapp, to what we describe in this post from Internet sales and home delivery of confidential and secure transportation. The man continues to expand and seek new ways to market. The real business of drugs is at present in internet sales .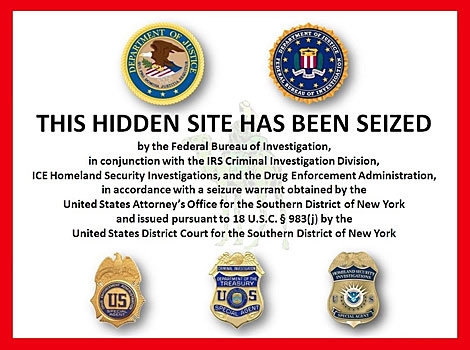 Desde amplia-mente.com queremos dar la enhorabuena a las fuerzas policiales y gubernamentales que han conseguido acabar con esta red de venta ilícita de sustancias estupefacientes, pero sin embargo, ¿por cuánto tiempo estaremos seguros?, no debemos de pensar que con la caída de Silk Road se ha acabado con este negocio, como sucedió con la detención de Al Capone no se acabó con el hampa, por lo que los alentamos para que sigan luchando.
Nosotros estaremos alerta y seguiremos estos movimientos.
From amplia-mente.com want to congratulate the polices and governments have gotten away with this web of illegal sale of narcotics, but yet how long we'll be safe?, We should not think that with the shout down of Silk Road has been finished with this business, as happened with the arrest of Al Capone did not end with the underworld, so we encourage them to continue fighting.
We will be alert and follow these movements.
About Sebastián Díaz
Dr. Sebastián Díaz Ruiz, soy Medico Forense en el Instituto de Medicina Legal de Málaga. Me apasiona la Patología Forense. Experto Universitario en Metodología de Investigación en Drogodependencias. Miembro de la Sociedad Española de Patología Forense y de la Asociación de Médicos Forenses de Andalucia. Autor del libro "Manual de Tanatopraxia y Tanatoestética". Pero ante todo, mi principal inquietud es la investigación y aprender cada día algo nuevo.
Twitter •